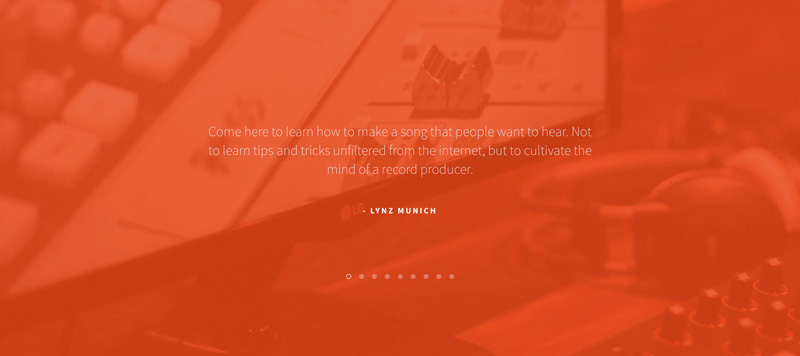 I <3 Crē•8 Music Academy! Let's see.
Currently, the program hosts four classes;
Init•8, Activ•8, Stimul•8, And Liber•8.
Initi•8 is the birth of a song, diving deep into song arrangement and energy maps of songs, where you learn how to analyze music and deepen your understanding of what you are hearing. You start to train your ears for later in the courses. I thought I knew songwriting arrangement until I took this class. Highly recommended for even experienced songwriters.
Activ•8
Get your hands dirty with Logic and Pro Tools. Again, even if you feel you're comfortable in either DAW, you'll learn to use it like a professional. You'll learn professional conventions and session management like making sure your sessions will translate with collaborations. No more missing audio files when you go to your friend's house. Plus it covers features you might've not have discovered on your own. Again, I had a few years of experience in Logic, and I learned a lot here.
Stimul•8
Producing time! Go deep into synthesis and sound design, remixing and sample selection. No more default Logic drum kits, honey.
Liber•8
Mixing and mastering time. Here we get into the practicalities of the home studio, gear selection, microphone shootouts,… – hey I don't want to spoil it. I had a few years of mixing experience, and taking this class elevated my mixes and the way I view them. It took my process to a whole new level. Plus, I didn't think I liked Pro Tools until seeing how amazing it is for editing.
Even if you have experience with any of these areas, Crē•8 is about taking your skills to the next level, so you can speak the language of professionals and behave like one. It's best described as a commercial music production boot camp.
You come here to become a record producer, that's that. Come here to learn how to make a song that people want to hear. Not to learn tips and tricks unfiltered from the internet, but to cultivate the mind of a record producer. "You won't walk out of here in four weeks being an incredible producer, but you'll know what it takes and have a map to grow into one"- Doug. It's your job to put in the work.
I came to this program from Buffalo New York and decided to stay in LA after indefinitely. Crē•8 is right on Santa Monica Blvd; it's a safe area to walk around. I recommend getting an Airbnb nearby (highly recommended as you can walk in whenever they're open from noon to 10 pm every day). Trader Joes is across the street. Parking is available out front or on the side streets before 7 pm! Parking is metered out front and is free after 7pm I believe. Parking tickets are readily available in West Hollywood!)
Other tips:
It's probably the only music school in LA that you're welcome to come back anytime and use the facilities and the studio afterward. "Studio A" is free for students to book anytime even when you finish the classes.
Everyone is nice. Currently, Alex is the campus manager,

 

Mariana manages admissions and administration,

 

Doug is the rock.
You'll learn to think, act, and approach your work like a professional
– There are people of all skill levels taking the classes, from artists who want to learn their way around a DAW for the first time to experienced producers who wish to take their records to the next level. Oh, and yes, songs are called 'records.'
I highly recommend taking all four classes if you can. Each class does build off the next. Not in a way that you'll be entirely lost, but there will be fundamental gaps missing.
There's the lab, which is ten computer stations with all of the professional software open for your use anytime Cre8 is open.
I highly recommend spending as much time as you can in the lab, getting hands-on while you're taking the classes. I went full-time which was three hours of class per day, then I stayed until close almost every day to get hands-on experience immediately. The classes are lecture style.
Take as many notes as possible, there are always nuggets that'll be dropped that aren't in the notes, and you'll be thankful later. However, you do get to keep the PDF notes from class, thank goodness.
Socialize! The people you meet here are already top notch. I'm introverted too, so do it anyways.
Westlake Studios speaks for itself, the home of Quincy Jones, Michael Jackson, Rihanna, and The Weeknd.
You ready to join the ranks?