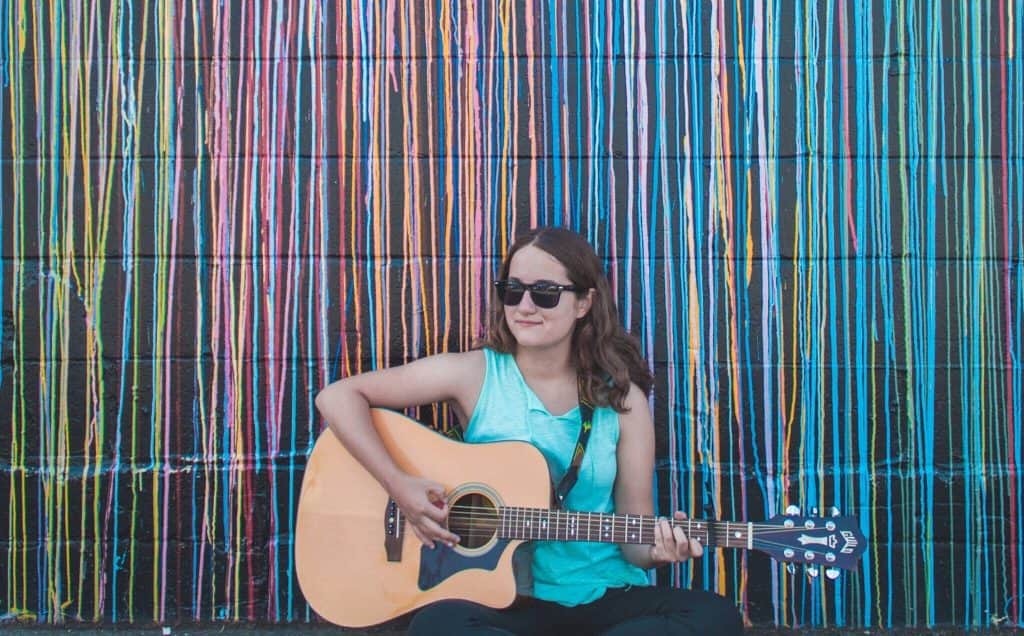 Hey. I'm Lynz.
I've been playing music since I picked up a guitar at age 12 and played my first show the next day.
During this time, I was inspired by the musical works of artist Adam Young, prompting me to write original songs too.
Then, after years of building experience writing and performing locally in Western New York, I decided I didn't want the pressures of booking studio time and realized I didn't want to feel watched through a glass. I wanted the freedom to record at any time or anywhere – even in my pajamas.
I took it upon myself to study the art of home recording and music production. Thanks to Graham from The Recording Revolution's hundreds of free tutorials and blog posts, I started releasing music.
In 2013 I released five of my original songs on an EP titled "Dusk At Dawn." that name came to me in the middle of study hall in 8th grade. So I wrote a song with that title into an old Twilight notebook and worked it with my guitar when I got home.
I had a not so great laptop that I bought from my brother that had a broken keyboard and USB port, and eventually, a microphone tapped the corner of the screen and the backlight burned out. But before that happened, I got a USB to XLR microphone cable and Mixcraft 6. and that's how I recorded that first EP.
I pressed it to CDs at home and sold it around town. I honestly had no idea what I was doing. But that's the fun of it!
My laptop situation beforehand was even worse, and after I finished the EP, I got an actual recording interface.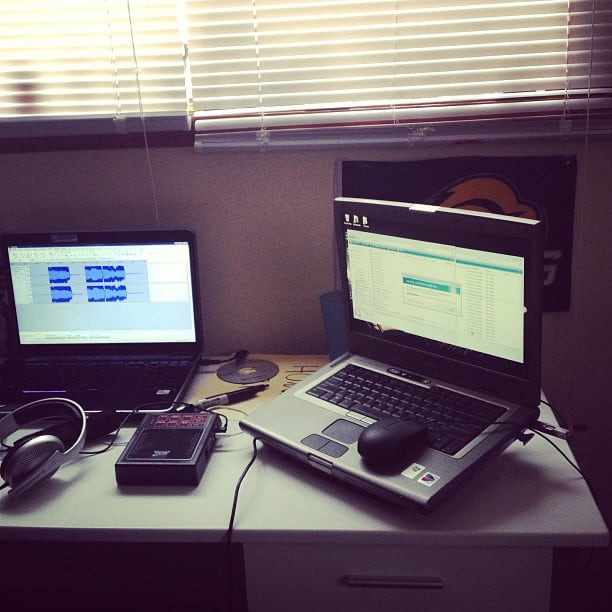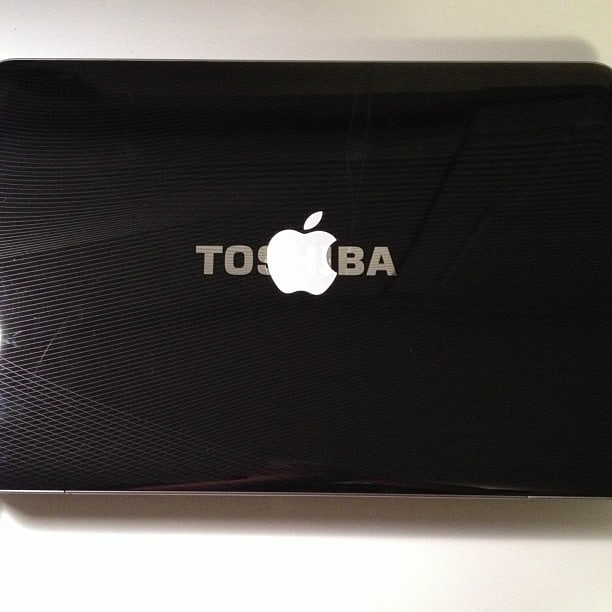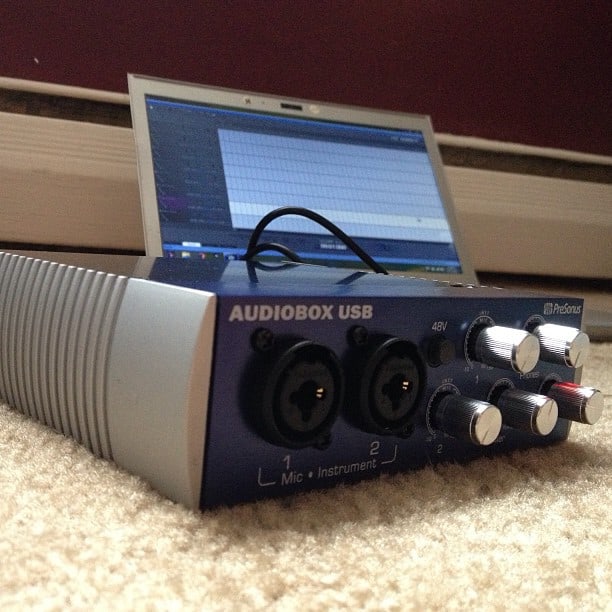 After a year or so of studying audio and dabbling in production, I began uploading cover videos to Youtube to try out these new skills. My favorite songs to cover were Owl City songs. Fans of these artists would find my covers, and I would message them immediately.
And that's how I made my best friends online. Also on SoundCloud.
After long enough of being bad, I started to get ok. I saw an ad after the Grammy's in 2014 for GRAMMY CAMP.
[Grammy camp is a live-in music industry camp where participants with varied interests learn how the music business works. They leave with a greater sense of how they can develop a strategy that will increase their chances of having a successful career in music. U .S. citizens currently are enrolled in high school are eligible to apply."]
I applied and didn't get in.
I applied in 2015 and got in with a full scholarship for audio engineering. Take that! @ high school professor who said,
"What are you gonna do instead of college? You're going to learn skills from YouTube University?"
Yes actually.
More than 6 million students took at least one online course in 2015, representing more than a quarter (29.7 percent) of all higher education enrollments that year, according to a new report from Digital Learning Compass. Put another way, the number of students who have taken a "distance education" course rose by 3.9 percent in 2015, adding an additional 226,375 online students to the virtual attendance rolls. Between 2012 and 2015, the number of on-campus students has declined by 5 percent, losing a total of 931,317.
Grammy camp was my first time working with others in a studio environment. And since I tend[ed] to self-isolate, I soon realized that working alone had caused me to develop poor habits.
I had to miss an exam at the end of June to attend, I woke up at 4 am eastern time [I had to make it to LA by noon from Buffalo], flew 7 hours west and then met over 70 people on the same day. I was overwhelmed but in the best way. I even forgot a towel for the dormitory stay (it was my first time.), but I roughed it when I realized the dorm blankets were quite… 'towel-esque.' Yeah, that was fun, I just met all these new amazing people and bam! Here was this potentially embarrassing towel situation, but I just laughed it off.
I'm very grateful for my grammy camp friends; it was very cool to meet so many people my age this involved in music. I was accustomed to being the only one in around town who knows how to work a DAW, except my friends that I'd been teaching of course!
Exactly two years after the Dusk At Dawn EP, I released a 12 track album version by the same name on August 11th, 2015. It included the five original songs, re-recorded of course, including seven new ones.
The night of the release I stayed up late on a video streaming service singing the songs to my friends all over the world. It was crazy to sing and know that my friends in, say Italy, could see me. They were trying to get me to write a song live on chat in a minor key since all of my songs seem to be in major, but I was like, "just you wait, guys!"
on dusk at dawn 2.0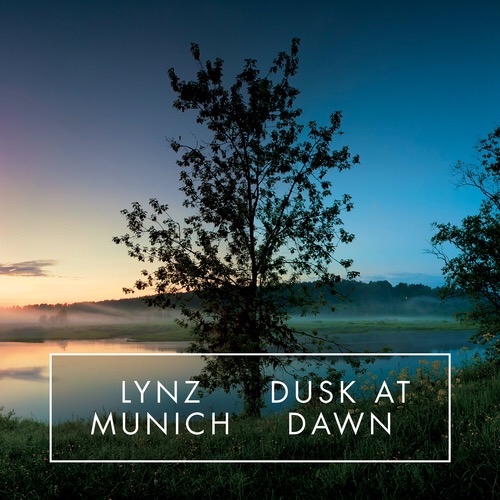 I retracked this record probably 15 times, nine times in one day. I'd keep learning new things every day, and it would improve the sound every time. But I did have a deadline I set on new years in 2015 thanks to Graham's video. Initially, I set a three-month deadline; then I moved it to August after realizing it was a more significant undertaking than I thought.
'Dusk At Dawn' the song features a guitar solo by my former high school bandmate Todd Glosser and bass by my uncle-mentor-friend ever, David Frost. Friend favorites include 'Sleep' which is about destroying sleep schedules by staying up late to watch the sunrise, (which I don't do anymore and don't recommend), 'Hope' which touches on the fear of the unknown, and 'Goodbye.'
Goodbye's instrumental wrote itself one night after I was listening to Adam Young's acoustic demos.  A few weeks later while I was mixing that song, I saw he had uploaded a song on SoundCloud titled 'goodbye,' and I texted jokingly to my friend, "What! Did he hack my hard drive?".
Regarding the album artwork, it seems that half of the cover is as if it's in 'dusk' and the other half is in the 'dawn,' which wasn't intentional. It just worked out pretty well. Initially, the artwork I had was made by a friend through an album artwork contest I hosted. It turns out it couldn't be printed on CD's due to the file format because that I didn't know needed to be 300 dpi at the start of the contest.
So out of desperation, I tweeted for help, and an excellent friend came along to make a new one.
A cool graphic designer out of San Fransisco made it.
I also had a thought to make a Kickstarter campaign to raise money to get CD made and everything, but I let my doubts get the best of me. But later on when two separate occasions I got asked when there would be a campaign to fundraise.
I used Kickstarter after trying a different site because it told me it 'wasn't possible because I didn't have enough fans.' that'll show them!
The campaign was a success, and in March 2015 it raised over $1,000. As one of the patronage gifts for donating, I had 'i'll write you a handwritten letter' option, but I ended up doing that for everyone who opted for a CD and left their address.

I remember biking to the post office with all these USPS boxes in my bag and making a mess when I got there just trying to put these all together. But I'm so thankful. I couldn't have made this album launch work alone.
Speaking of alone time, I began to get fed up with myself and how much time I spent alone by choice. Don't get me wrong, I love alone time as an infp introvert, but I was seriously stuck in my head all of the time.
After a few months, I finally allowed myself to sit down and pen a song, which ended up to be my song 'Enough.' I came back from dinner with my family and noticed this odd sense of anxiety in my chest that had been lingering within me for months. I just had to do something to release the tension, whether I liked it or not.
I recorded and posted the song as an acoustic version to my SoundCloud page in November 2015, re-released it as a duet in April with my internet friend who goes by the moniker "Paper Messages," and released it a third time as a full production solo song the next month.
As I was finishing up the mix for the solo version, I got an email that the Buffalo Music Hall Of Fame was accepting entries for their Jack Yellen foundation songwriter's competition, which is a 21 and under competition.
Four finalists would be selected to perform their chosen song at a showcase to be held at the Hard Rock Café, in Niagara Falls USA. The winner would receive a full day recording session to record the winning song at GCR in downtown Buffalo. The studio is owned by the Goo Goo Doll's bassist, Robby Takac.
The winner would also have the opportunity to work with Buffalo Music Hall Of Fame inductees and board members to arrange and record the song and a paid performance at the hard rock café in Niagara Falls.
I ended up winning the competition. I didn't have a lot of time to think about it after I submitted because of school and other projects. As the saying goes, try, try, try again because this was the second time I applied to be in this contest, just like Grammy Camp. The first time I applied, I wasn't accepted, but then the year after the Buffalo Hall Of Fame emailed me to encouraged me to enter the contest again. So, I did.
This was the first time I recorded in a studio and not in my closet with loud traffic right outside.
So here are the results of that. It has a more bluegrass-country-pop vibe than my original.
Original:
But I was okay with it, since all of the session musicians were bluegrass players anyways, and Adam Young released his song 'back home' with Jake Owen which I liked, so we used that as a reference track.
One night I had a dream I finished a cover that Adam Young posted in 2014, so I did and at the time of writing it's got over 76k+ views on Youtube.
2016 and 2017 I mainly spent traveling. I graduated high school, and the road was mine.
I was trying to decide what to do post-high school and wasn't super keen on just being shuffled into college 'for no reason.' I had already been to California 5+ times to visit my brother and decided that California was much better for social capital.
I applied to
uncollege and was one of the top applicants but decided not to go. The book describing the premise is amazing though too. *affiliate link*.
The day after I decided not to go I was on Youtube and found a video from Andrew Huang about recording in Michael Jackson's studio. This studio is Westlake Studios.
Later in the day I was on Facebook (real productive day, huh), and saw someone posted in a group that they just completed crē•8 music academy. I couldn't find a ton of info on it, but I decided to apply and got a call back that day. They've since gotten a new website with more info than there was before. I wrote a review so you can have more info than I did.
TD; LR, Cre8 is a 4-week pop music production boot camp right in Los Angeles taught by Doug Fenske (Grammy nominated engineer for his work on Channel Orange; Frank Ocean, etc.), Check out my review here.
It starts with the beginning of a song, and it's the journey all the way to the end, where you get to mix a pop song inside Michael Jackson's Studio D.
The focus is becoming a pop record producer, and each step of making a song is viewed through the lens of one.
It was incredible, and I ended up finding a place to live not far from it. So now I live in LA and can use their studio and facilities anytime I want.
I met an awesome student Ryan Kulp, and now I help him write case studies for his company Fomo. Fomo gives e-commerce stores a stream of live notifications of the action of their choosing. Fomo works by displaying a small notification in the corner of the site with the of action your choosing. You may have even seen some while reading this 🙂 It seamlessly integrates with hundreds of applications to display events. Update: Fomo has 1,000+ integrations.
Other examples of what can be displayed are someone subscribing to an email list, an image posted on Instagram, amount of viewers on the website, etc. see the magic for yourself.
So I'm doing this, while I'm learning to program, working outside in 70+ degree weather, and making music session-ing with friends.
Nice to meet you. Let 's talk.