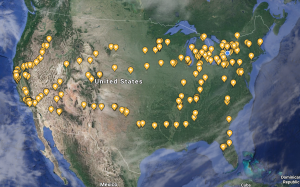 january:
saw the ball drop in downtown buffalo, from inside of course
i dog sat for a while
february:
i went to d.c. to meet and visit pat for the first time
saw switchfoot and relient k in rochester
performed at the buffalo science museum through the buffalo hall of fame
march:
drove to florida in a budget truck to help the family move
april:
went back to dc to visit pat with joseph and saw john mayer, in turn, got pat hooked on jm
joseph left early for easter and came back to buffalo, and we toured around, saw niagara falls ontario and drove to albany to see brian wilson!
may:
performed at the hard rock cafe bmhof songwriters showcase with todd glosser
went to michigan and got straight off the bus to rehearsals to play guitar for worship at a homeschool conference before ken ham spoke
witnessed the marriage of michael and rachel schmidt
saw a gnarly car accident outside my house, nobody was injured
moved back to orchard park from west seneca
was apart of dan's dope street filming blockade
june:
attended sam's high school graduation party
saw betty who with shelby and john downtown at canalside
recorded a cover of nothing holding me back by shawn mendes with todd
saw a huge tree fall on a house but everyone including the house was fine
made a cover of ed sheeran's song perfect
joseph arrived in his new diesel whip
randomly drove to altoona pennsylvania to meet halfway with pat and film some music videos, i.e., betty who high society cover and waves
went to michigan to attend gear fest and met brandon jordan, i just mastered his album watch out for its release!
saw luke cyrus bands last public live show 💔
july: spent 4th of july with the cook family in alpena mi
drove straight from the up in michigan to manila arkansas to meet longtime internet friend davis smith. check out our song together and his new song here.
had a fantastic time exploring memphis and hanging out making music. took my profile picture at the "wonderwall."
stayed three days then drove to buffalo. on the way back we stopped in nashville and toured around. it was my first time, and we spent about 5 hours and got to buffalo approximately at 5 am. we were blasting spongebob and splashing cold water to stay awake. don't recommend that
patrick came to buffalo and loved it!
august:
we went to riverworks and darien lake, eternal flame, saw dream spectrum
joseph met us in buffalo, and we toured gcr downtown
we went to toronto and then drove to michigan and began our first cross-country road trip to la
stopped at the world's largest truck stop, i drove independence pass in colorado (!!!), had a glimpse of vegas
got to la and saw ed sheeran
met markus in santa monica and tried driving up pch1 to catch the meteor shower but failed miserably because light pollution
we went and met my brother in san francisco
he had received a free car but that all failed miserably ended up scraping it
patrick left
we drove up to boise idaho to catch the solar eclipse
saw the painted ladies in alamo square
got to see adam's dragon gloves and go jet skiing
september:
drove back cross country and went a more northern route, stopped at wall drug south carolina, went up through minnesota, stayed in owatonna and met a sweet bird, went to the mall of america while it was open, stopped at chicago music exchange
joked around with joseph about seeing if bleachers will ever tour because we recently became obsessed with jack's music and saw that the first show of his tour started in buffalo the day we get back !!!
so we saw bleachers
i performed at music is art and played electric for my first show with joseph jimi brady and todd
joseph left
kathryn gave me lessons in manual car driving
took an apple photo walk class and was the only one there
volunteered at farm aid and saw dave matthews and willie nelson and neil young
got close to carrots
went boating with david lee
left for a whole new adventure…
joseph came from alpena to buffalo
packed our things and left for california to attend cre8 music academy through westlake studios. a pop music boot camp essentially
left a few days early to have more time to explore
went a southern route, went down through nashville and down through alabama louisiana and texas
had bbq in dallas
we met an online friend christopher bryant in fort worth. apparently, texas is more than sand and cowboys! there are people and stuff!
stopped at a sweet music shop and ended up staying a long time talking to a southern gentleman about his whole history and scooped a sweet humbucker strat and an akai keyboard. we already had 0 room in this poor car
driving along at 80 in texas and suddenly my foot went to the floor… the check engine light appeared.. and i couldn't go over 60…
well come to find out a significant air intake hose popped, and we lost substantial acceleration power
spent a night in amarillo texas, met an awesome-fiddle-playing-trailblazing first female dentist in the texas panhandle lady, assumed we were getting ripped off at the dealer, taped up the wrong hose and drove on
drove 16+ hours from amarillo texas to los angeles in one day and arrived at 4 am. our cre8 classes started that same day, thankfully later in the day. at times i wasn't sure if the car could go past 15 mph. fortunately the route was pretty flat. we drove with hazards the whole time.
october:
began cre8 and hung out with and met a lot of new friends, went to the beach, embraced the 100+ degree weather
i spent about 8 hours at the school every day. it was incredible
saw a fire hydrant explode lol
while looking for permanent housing we saw a friend was in phoenix to see the killers, so on a whim, we drove 6 hours there and made it see them!
also finished the cre8 courses this same month and got to tour westlake studios. i.e., michael jackson bad album
november:
attended the taxi road rally and that was the bomb! jason blume had terrific songwriting presentations, and i got his books signed
got hired to mix and finish producing an ep and spent about 16 hours just on vocals
the next three weeks were entirely consumed in making these mixes as great as possible. i tackled pro tools and learned to love it
went up to sf for a week and saw nothing but rain the entire time…
came back and officially moved to la
stumbled upon the infamous burbank ikea
played a show on sunset strip
checked out hillsong la
december:
tracked guitars for a special davis smith ep
bonded with synthesizers more, i.e., minimoog model d
went to the holocaust museum
checked out amoeba records.. it is an enormous warehouse full of posters and music of all kinds
flew to buffalo for the holidays and am catching up with friends right now!
cheers to 2018!