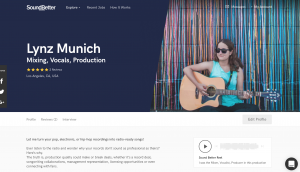 https://soundbetter.com/profiles/86074-lynz-munich 
Let me turn your pop, electronic, or hip-hop recordings into radio-ready songs!
Ever listen to the radio and wonder why your records don't sound as professional as theirs? Here's why.
The truth is, production quality could make or break deals, whether it's a record deal, songwriting collaborations, management representation, licensing opportunities or even connecting with fans.
People form opinions based on production value, and if you don't have polished and professional sounding recordings, it can hurt your chances of securing your dreams.
I will give you clear mixes of your music which are so necessary to achieve success in today's ultra-competitive marketplace. I will also save you time so that you have more time for the creativity of songwriting and producing.
-Reliability. You want to know you won't miss your deadlines
-Clear communication. You don't want to be wondering what's going on
-Trustworthiness and passion. You want someone who raves about your music
Services I also offer:
Toplining
Lead Vox/ BGV
Take your guitar and vocal to a full-scale production
Produce pop song instrumentals for YouTube covers
Vocal editing tuning and processing
Track electric/acoustic guitar, bass, synths, and violin
What this all means for you: 
More gigs, more fans, more plays, better deals
Contact me if this sounds like you!
About me:
Graduate of Westlake Studios' (The Weeknd, Rihanna, Michael Jackson) production academy